Helping you achieve your goals is the reason we're here.
Hear what our clients have to say about working with us.
"What differentiates Agility from other vendors I've worked with is their ability to understand our business and do things "with us" as opposed to "to us."

-- Gier Homer, Former Senior Director, EMEA Margin Assurance.
"I've dealt with a lot of consulting firms and vendors in the past and one of the things that really impressed me is that Agility has the methodology to thoroughly look at data and audit correctly. A lot of other companies don't have that. Agility's team had the ability to look at data from different angles the way that true insiders that work in the industry do."

-- Deb Shute, ISP Inventory and Quality Control Manager
"After dealing with other third party consultants, I appreciated the way that Agility approached me, approached my company, approached the vendors, and approached the project."

-- Rich Jackson, Executive Director
Click each square to read our client impact stories.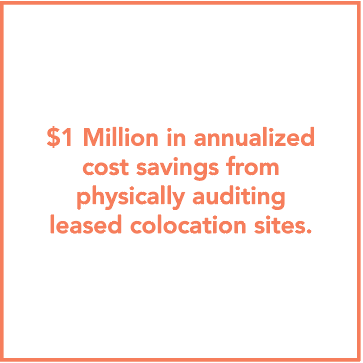 This telco saw more than $1 million in annualized savings through a focused effort in auditing spend at their third-party colocation facilities.
The Carrier Cost Management team at this telco was looking for a third party to audit their leased colocation sites. By partnering with Agility Solutions, they were able to recognize $1.2 million in annualized cost savings, $400,000 in credits for vendor disputes while also improving upon their existing processes. This helped create a tremendous impact to the organization's bottom line.
Ready to get started with a low risk pilot project?
Learn why a partnership might make sense.